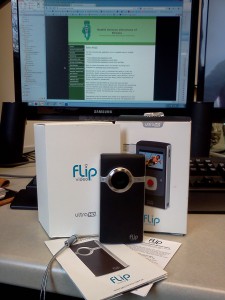 Tell your library's story!
HSLI membership has a great new benefit! Members can check out a digital video camera to create library promotional videos, training videos, or to document library activities. Video is a great way to share your story with the world or to show your users what your library has to offer.
The camera can be checked out for 14 days. Members are responsible for return shipping charges when returning the camera.
The camera is very easy to use. Simply point and shoot, then download the video to your computer with the camera's built-in USB connector.
To request the camera, download the Camera Request Form and email it to Stacey Knight-Davis at slknight@eiu.edu.